Disclosure: This post may contain affiliate links from which I will earn a commission at no extra cost to you. Thanks for your support!
Most likely if you have found yourself on this page, you already know what a dual-purpose chicken is, but in case you stumbled upon this post curious about what dual-purpose means, I will give you a quick and simple explanation!
A dual-purpose chicken is a breed of chicken that can be successfully used on your farm or homestead (or even your backyard) for both egg laying and meat purposes!
These birds are absolutely perfect for farmers and/or homesteaders that want to keep birds for both purposes, but only want to raise one breed.
The 4 types of chickens I am going to share with you today are my favorite dual-purpose breeds. All of them have awesome egg production, are big bodied and great for meat, and are calm, friendly breeds, which I believe is important too. (Especially if you have little ones running around like I do. 😉)
Let's get started!
---
1. Bielefelders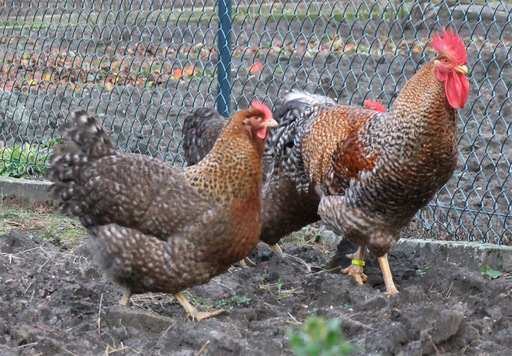 So first and foremost, I want to talk about my absolute favorite dual-purpose breed. (This is the breed we are currently raising on our farm. CLICK HERE to contact us about available hatching eggs or chicks!)
If you are looking to pick just one well-rounded breed of chicken for your farm, you absolutely CAN NOT go wrong with this incredible and stunning bird. If you ask me, these are the SUPER breeds in the chicken world.
One might say that this breed is another product of impressive German Engineering, and that's because, well, they are! Bielefelders originated in Bielefeld, Germany in 1970. Many breeds were used to develop this "super chicken" including: Cuckoo Malines, Amrock, Wyandotte, and the New Hampshire.
This breed was first imported to America from Germany in 2011, and have only been brought over a few other times since. This means that the breed is still quite rare here in the United States, and because of that, they do command a higher price than most other dual-purpose breeds, but trust me when I say that they are worth the investment, and I will tell you why!
EGG PRODUCTION – Average per year 221-280 per chicken. Bielefelders lay numerous pinkish-brown eggs per year, and tend to lay throughout the winter as well. Not only that, but they lay jumbo sized eggs that are often bigger than most other brown egg layers. This breed is also a fairly early layer, usually starting around 6 months of age if you purchase from reputable breeders.
MEAT QUALITY – These birds get big, and have very good tasting meat. If well-bred, the hens typically are 8-10lbs when fully mature, and the roosters 10-12lbs.
WEATHER HARDINESS – Excellent cold weather tolerance, and decent warm weather tolerance as well.
HEALTH HARDINESS – Very good! They are easy keepers.
TEMPERAMENT – PERFECTION – This really is one of the best parts of this breed. You cannot beat their incredibly friendly and docile temperament. The hens will let you pull eggs out from under them without a single peck, and even the roosters are very calm, respectful of humans and other roosters, and are gentle with their hens. However, that does not stop the roos from being appropriately protective of their flock. If you want a rooster that will take care of your hens, but not chase you around in your own backyard, this is the breed to get!
Bielefelders will often follow you around the yard, sit on your lap, and are content enjoying life with their human caretakers. Even as baby chicks, they are super laid back, and so fun to raise.
and speaking of baby chicks…. this breed has a BONUS attribute that you will not find in most other dual-purpose breeds…
Which brings me to:
SEXING – Bielefelders have the auto-sexing function, which means you can tell the female chicks apart from the male chicks by feather color/pattern as soon as they hatch. This is ridiculously helpful to a chicken keeper for so many reasons.
Say you want to be able to sell only pullets (female chicks) or only cockerels (male chicks) for specific purposes, or maybe you want to raise a group of cockerels separately in order to butcher them for meat, maybe you want to sell all but three pullets out of your hatched chicks… Guess what?? You can keep three females without the guess work, or having to wait several weeks to months to be able to tell which ones are little girls… Some people you are selling to may want the assurance that they are only purchasing hens because roosters are not allowed in their neighborhood, or maybe they simply don't want the crowing that comes with a rooster.
Whatever the reason may be, this breed characteristic is very useful in the farming/homesteading world.
Yes, this breed is a bit more expensive to start out with, but in my honest opinion, they are worth the extra. Plus, if you purchase from a reputable breeder, you can establish your own flock and breed and sell them yourself for a nice profit!
***Note – The reputable breeder part is important. If you purchase these birds from a hatchery, they likely will not have all the amazing qualities that a Bielefelder should have. Responsible breeders only breed the best of their flocks, and purposefully work on bettering the breed and enhancing their awesome qualities.


Downside to this breed – Bielefelders do tend to eat a lot as baby chicks, possibly a bit more than other breeds, but their food intake evens out with other large breeds when they are fully mature.

2. Black Australorpe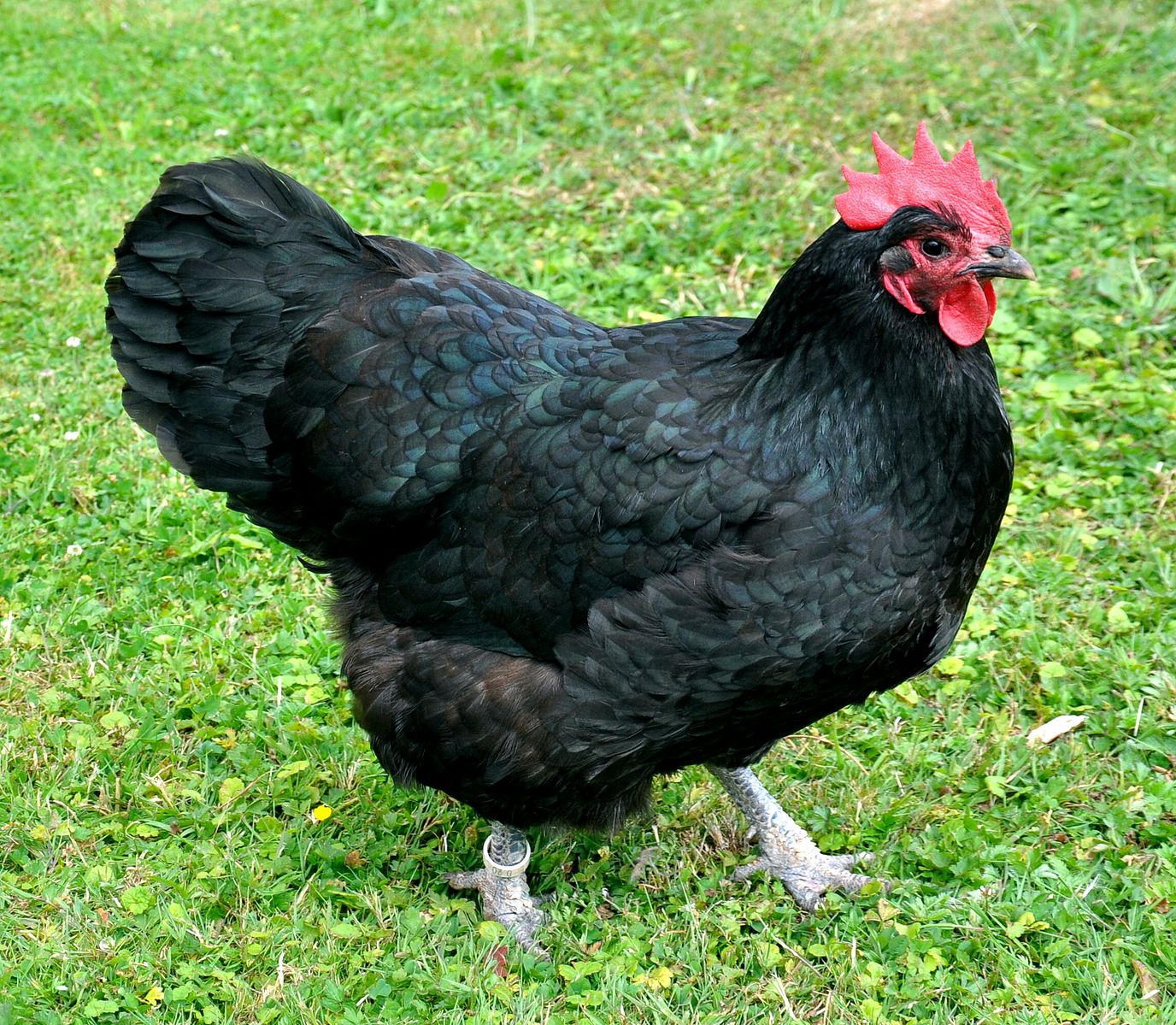 Another breed that I am a big fan of is the Black Australorpe! This breed is also very well-rounded and would make a great addition to any farm looking for a dual-purpose chicken.
This breed, along with 8 other breeds, was originated in Australia, and was first imported to the US from England in 1890. In 1922 a black australorp chicken broke the world record of the number of eggs laid total in one year when she laid an astonishing 364 eggs out of 365 days.
This record gave this chicken their claim to fame, and industrial chicken farmers went nuts for them. Since then other records have been set, and their fame is not quite as high as it once was, but they remain a very popular breed of chicken for egg laying and meat purposes.
Let's take a look at some of their breed qualities.
EGG PRODUCTION – Eggsellent…. 😏 This breed lays 250-300 eggs per year. This is a large breed that produces large light brown eggs. They also lay all year round, even through winter, and start laying around 6-7 months of age.
MEAT QUALITY – Very good! Males reach 6-8lbs at maturity and females 5-7lbs.
WEATHER HARDINESS – This breed handles cold and warm weather very well.
HEALTH HARDINESS – Very Good. Easy Keepers!
TEMPERAMENT – Great! Australorpes are another breed that is incredible for families with young kids or for keeping as pets. They are right up there with Bielefelders with how friendly and easy going they are.
SEXING – This breed is difficult to sex before 5-6 weeks of age, and sometimes even longer than that. Around 5-6 weeks the roos should start growing bigger and redder combs and wattles and their legs may start thickening up. Other times you just have to wait until they crow or lay an egg to be able to tell for sure!
***Note – A lot of times, but definitely NOT always, the pullets (females) will feather out faster than the roos. Meaning they will lose their downy feathers faster and get their adult feathers sooner. So, if you're picking some out from a breeder or from a farm store like tractor supply, and you are trying to get females, you will most likely have more luck picking chicks that already have a bit of feathers on the wings or tail (if any have that yet) However, this is definitely not a surefire way, and should not be used if you want 100% accuracy. Some say this is just an old wives tale, but I disagree as I have had some levels of success with this method in the past.
Downside to this Breed – This actually can be an upside as well depending on how you look at it, but this breed is more likely than some to go broody. When a hen goes broody she likes to sit on her eggs and try to hatch them, and she stops laying eggs for the duration of her "broodiness." This can be great if you want a hen to hatch eggs for you, but it can also be a bit of a pain when you don't have any roosters and your hen stops all productivity to sit on eggs.

3. Buff Orpingtons

The Buff Orpington is probably tied for my most favorite dual-purpose breed. I adore these beautiful and sweet birds.
This British breed was developed in the 19th century with the intentions of them being great egg producers as well as being big and hearty for use as meat birds. However, in 1895 this breed was presented at a breed show in Madison Square Garden, and from there they have become very popular as show birds as well. Because of this, they have lost a bit of their awesome egg producing ability due to being bred for appearance over production by some breeders.
However, they still have great production and they are a wonderful breed to raise on a homestead or right in your backyard!
EGG PRODUCTION – Average per year is 200-280 per hen. They lay large, light brown eggs all year round, and begin laying around 6 months of age.
MEAT QUALITY – Great! Orpingtons get to be about 7-8lbs when fully mature.
WEATHER HARDINESS – This breed fares well in the cold, but don't do quite as well in extreme heat. They need great ventilation and shade, and possibly the use of a fan.
HEALTH HARDINESS – Very good. Although, they can become obese without sufficient exercise.
TEMPERAMENT – Amazing. These birds are very friendly, and gentle.
SEXING – Sexing Orpington chicks is very similar to the Black Australorp above. They typically cannot be sexed until at least 4 weeks of age when the cockerels may start developing larger and redder combs and waddles, and thicker/longer legs. They will also start to stand taller with their chest puffed out, and may even attempt a very week chirpy sounding crow.
When they are first hatched, sometimes the males have pale, whitish streaks in their down at the upper wing joints, and like Australorps, typically the pullets in this breed will feather out first, but AGAIN… not always.
Downside to this breed – This breed is highly likely to go broody. Again, this can be a positive thing if your intentions are to raise your own and let your hens hatch and care for the chicks. Orpingtons make incredible mothers and will often be thrilled with the opportunity to hatch some eggs, even if they are not their own! But, if you have no purpose for a broody hen, this behavior can become rather frustrating.
4. Rhode Island Red
Last, but certainly not least, let's talk about the Rhode Island Red.
This breed is quite possibly the most well-known and popular breed of chicken in the United States. These birds are known for their high egg production, and also are great for meat, especially if you have the industrial strain of this breed.
There is also a heritage strain, which is known for the egg production, but Heritage RIR's can certainly be used for meat as well, however the meat from this strain is better used for soups and stews.
Rhode Island Reds were originally an experimental breed developed by a man named William Tripp. Tripp was a sea captain who made voyages between England and New Bedford, Rhode Island. He carried chickens on his ship to provide meat and eggs for his crew.
Along one of Tripp's journeys he crossed paths with another sailor from England who had a red Malaysian rooster aboard his ship. Tripp was very intrigued by this rooster! Enough so that he ended up purchasing him and allowed it to breed with his flock.
Eventually, an American chicken farmer named, Isaac Champlin Wilbour took notice of Tripp's flock during one of his voyages to Rhode Island. He saw potential in the breed and bought some of Tripp's fowl. After purchasing he began his own crossbreeding program and mixed the birds with other breeds such as: the Shanghai, Java, and Brown Leghorn to create what we know today as the Rhode Island Red.
EGG PRODUCTION – an impressive 200-300 eggs per year. These birds lay medium-sized brown eggs, lay all year round, and typically are early layers, starting around 18-20 weeks of age!
MEAT QUALITY – The industrial strain better quality for meat, but heritage strain can be used to for things such as soups and stews. The industrial strain is smaller though, so you cannot expect a large bird for your dinner table. If you order from a hatchery they will most likely be the industrial strain. You will need to go through a reputable breeder to get the heritage strain in most cases.
WEATHER HARDINESS – Rhode Island Reds to well in any climate.
HEALTH HARDINESS – Very good – Easy Keeper!
TEMPERAMENT – Active, and fun! These chickens are busy, and great foragers. They enjoy making announcements when they lay their eggs, and are usually pretty friendly. However, I have met a few nasty Rhode Island Red roosters in my day, so be aware that this breed may not be the very best if you are a family with small children, or if you don't want to deal with an over protective Roo.
SEXING – This breed sometimes can be feather sexed with success, but only if the birds have been bred with this trait in mind. To do this you need to spread the wing open so that you can view the pin feathers. In many cases, male chicks will have even rows of pinfeathers, while female chicks will have pinfeathers that alternate between long and short. Again, this is not always the case, and is not always accurate. Otherwise, you have to wait until they are older to tell them apart.
***Note – A lot of breeds can be vent sexed when they are first hatched, but it is not recommended unless you are a trained professional as it can seriously injure the chick if done incorrectly.
Downside to this breed – They are smaller and not as good of meat birds as the other suggested breeds. (in my opinion) They may also not be as friendly as the others above if that is important to you. (especially the roosters)
---
So there it is! My top 4 recommendations of dual-purpose chicken breeds for your homestead. The first three are personal favorites of mine, while the Rhode Island Red is one of the most popular in the states.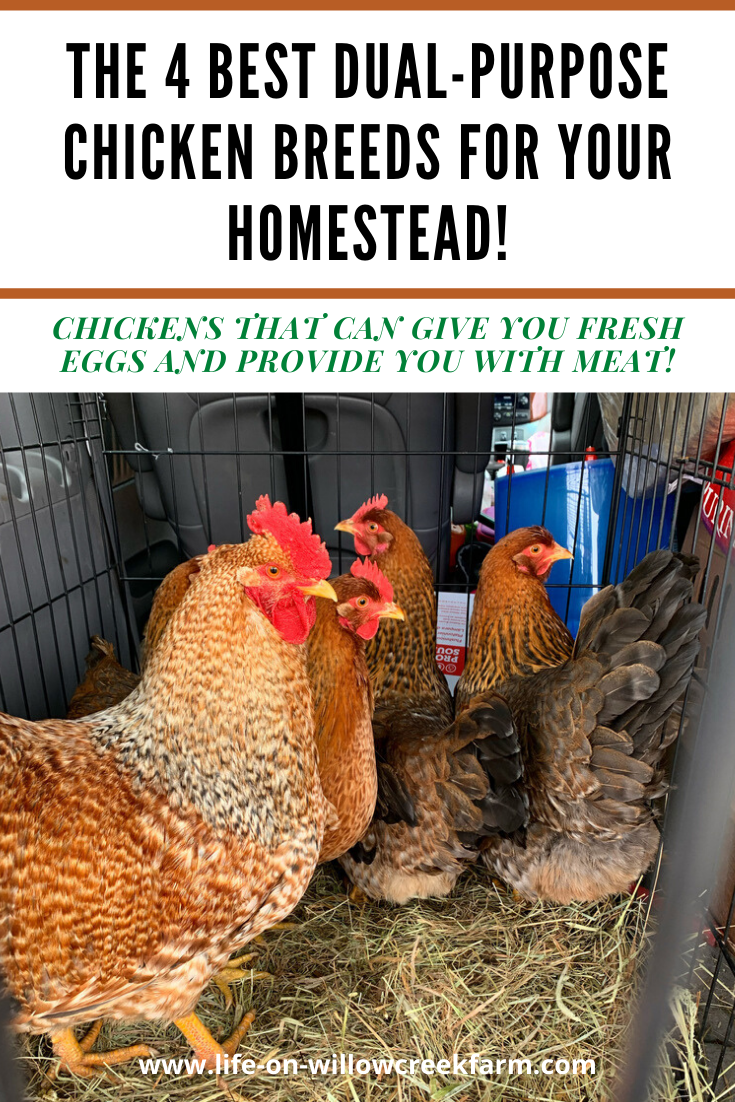 I hope this was helpful in choosing the right breed for your farm!
Leave a comment below if you have a different dual-purpose breed that you love and raise yourself!
Until next time,
Happy farming! ❤️🐐🐓
---