I know, I know… when I first heard about this concept it totally blew my mind too. I mean WHAT? Growing lettuce with just water? How have I never known about this before???
Well, I have news for you. It is true, and it works, and it is SO cool.
The best part is that ANYONE can do it. It is incredibly simple, and there are so many benefits in doing so…
So what are these benefits??
Well first off…
1. IT'S FREE – I mean, does it get any better than that? I'm not sure it does. All it takes is your old head of lettuce that you already paid for, some water, and a small bowl or glass.
If you still need convincing, you are crazy town, but I'll give you some more reasons anyways!
2. SAVINGS – It will save you moneyyyy! Who doesn't like that? Especially if you buy organic, this can be a great way to cut down on your costs. It all adds up!! Plus, if you have animals that eat veggies like I do (Goats, Chickens, and Guinea Pigs… Oh my!) Then you are well aware of how they bleed you dry when you have to BUY organic veggies for them. 🙄 So you will GREATLY appreciate this awesome trick.
3. TIME – Oh ya, beyond the money, it also saves you time! If you have been considering growing some of your own food anyway, but the idea of planting a garden overwhelms you right now because of time, start with this!! It will get you going and there is no tilling, no planting, no fertilizing, no weeding… Just watch it grow and enjoy your harvest.
4. FUN FOR KIDS – This is such a neat little growing experience and lesson for kids. Which brings me to my last benefit which I already mentioned above…
5. EASY – Guys. Its so easy, even your 6 month old could have fun helping you do it. Seriously!
How does one create this awesomeness?
So now that I have convinced you to give this a try, I will give you the crazy easy instructions on how to do this!
First – Cut the bottom off of your lettuce. Wash and save all the yummy top leafy parts you just chopped off for a delicious salad later on or to feed to your goaties and guinea pigs like I do. 😄🐐
Second – Get a bowl or glass that fits the bottom of the lettuce appropriately. You can see the bowls I use in the picture below, and you can find bowls just like them HERE, and HERE if you need some. I already had these, but I ended up buying more just so I could grow more veggies in water!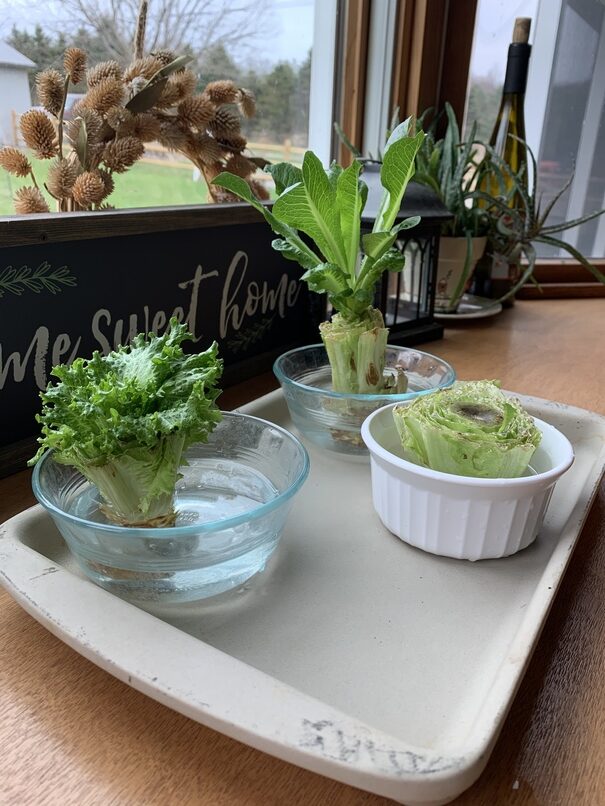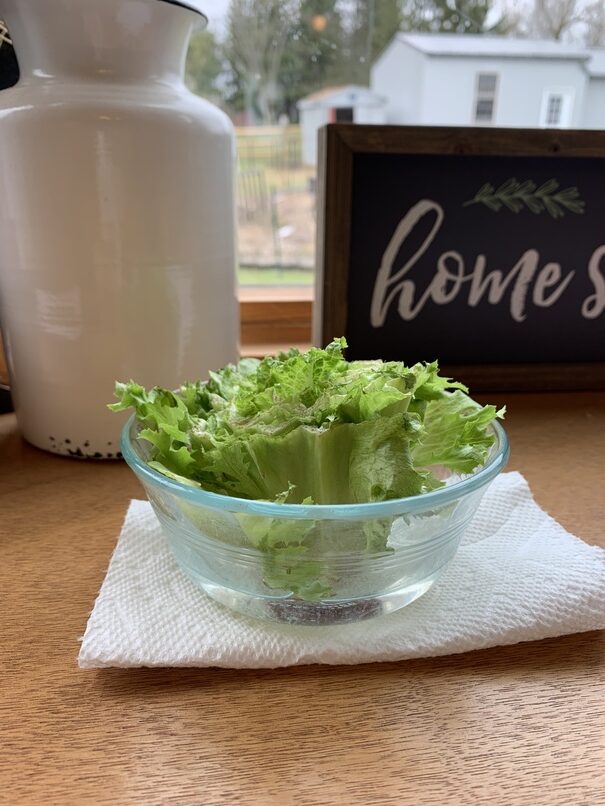 *Note – If you like the geometric style and want the bowls to match more with your decor, these are super cute.

Third – Fill the bowl or glass with about 1/4 – 1/2 inch of water. You don't want too much or it could make the remaining leaves moldy and stinky.
Fourth – Place the bottom of your lettuce into the water.
Fifth – Change water out every other day or sooner if it is stinky or slimy or if it simply needs more.
Sixth – Watch and be amazed as your new lettuce grows right from the center!! It should start within the first few days, and within 2 – 3 weeks you should have a new small harvest of lettuce to collect for your sandwich or your goat's dessert. 😉
*TIP* Fertilizer may help you yeild more from your little crop if you want to give it a shot! Here are some fertilizers that I would recommend:
---
I have a secret… Lettuce isn't the only vegetable you can do this with.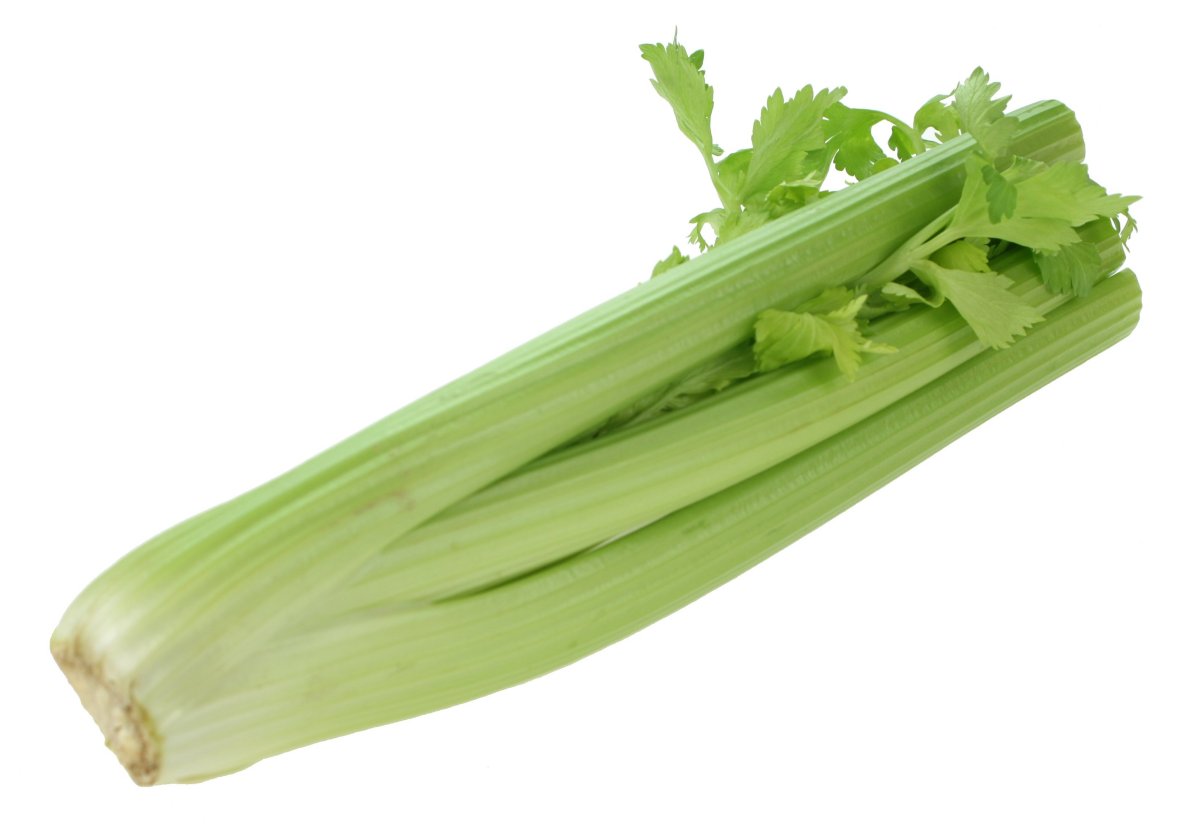 Ya I know, I had you all excited just about lettuce, but SURPRISE! You can do this with many more veggies too!
Here are some others you can try:
Cabbage – Place the root end in a small bowl of water
Carrot Greens (just the greens, not the carrot itself) Place ends in water, and add new growth to your favorite dish of greens!
Fennel – Cut off 1 inch from bottom with roots still intact and place in shallow water.
Green Onion – Place the white part of the onion with roots still attached into water.
Bok choy – Cut off bottom of stalk and place in water – Bok Choy grows very quickly!
Celery – Cut off bottom 2 in and place in shallow water.
Leeks – Cut off bottom 3 in and place in water.
*Note – For taller stock veggies, try using taller glasses like these instead of the bowls.


---
Make it part of your Decor!
You don't have to sacrifice style to grow your veggies inside either. Use pretty bowls that match your decor like the ones I listed above, or get a trendy tray and planter set! I included some cute options below that I think would make fun "grow veggies from water" dishes and vases. 😊
That's it for now folks!! I hope you enjoy re-growing your veggies, and eating home grown healthy foods. ❤️
---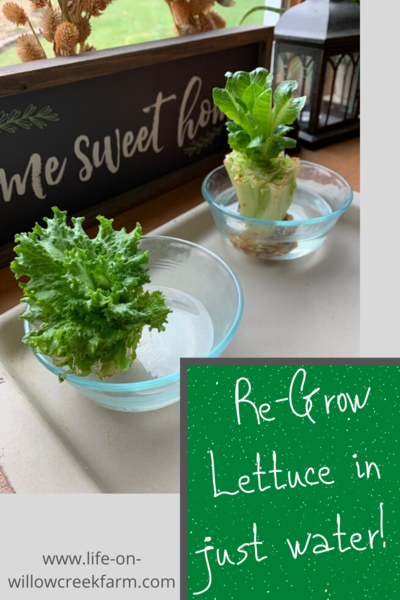 – Save this information for later, and help us spread the word by pinning this post to Pinterest!
Hover over or tap the photo on the left to see the Pin it option.
---
If you have a full blown homestead, or you're thinking of starting one, check out these posts on some of my favorite homestead livestock!
Best Dual-Purpose chicken breeds!
Why you need Nigerian Dwarf Goats in your life like, yesterday…
---