Casa Ram PL Remizidae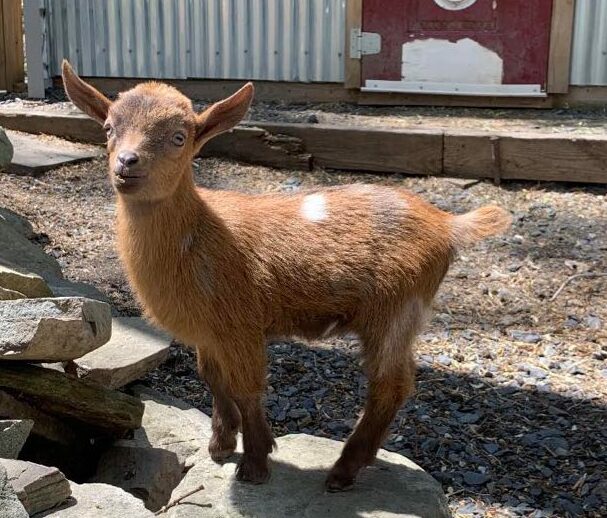 COMING SOON TO THE FARM
Pedigree – 
(Barn name – Remi)
Color: Chocolate Chamoisee with moonspots
DOB: 4/4/2021
ADGA ID# Not yet available
I am so so excited about this little doeling! Her sire (Pokeylope) recently went Grand Champion in 2 rings as a YEARLING buck, and then took Grand again as a two year old which means he has finished his championship at just two years old! Her Dam is also a stunning, very correct doe who has a long body, super level top line, and is just gorgeous all around. Remi's sire's sire, and dams sire are also finished Champions, and her Dams Dam is not far from it either! A lot of very beautiful and finished Champion goats in this pedigree, and I feel very lucky that I get to watch Remi mature into a beautiful doe herself!
DAM – Dreahook DER Verdin
DD – Dreahook DB Lyra VEEE-90 (1x Jr, GCH, 1x GCH)
DDD – Dreahook RS Cape May VEEV-90 (1x Jr. GCH, 1x Jr. RGCH, 1x BDIS)
DDS – TX Twincreeks Dowtown Brown *S *B
DDDD – MCH TX Twincreeks WDF Wanna Dance?
DDDS – TX Twincreeks RM Rainshadow *B
DDSD – MCH/GCH Gay-Mor's JJU Nonpareil 3*D/1*M EEEE-92
DDSS – Piddlin Acres PV Pokemom *S
DS – Dreahook U Derby
DSD – CH Dreahook Glow Worm EEEE-91
DSS – Wood Bridge Farm Uncas V+V-85
DSDD – Dreahook Sea Foam
DSDS – TX Twincreeks FAX Valinor *S
DSSD – CH Atwood Acres Dott
DSSS – GCH Wood Bridge Farm Understated VEE-89
SIRE – CH Casa Ram MR Pokeylope 
SD – AGS Doubletree Honeynut Cheerio
SDD – AGS Doubletree A Halfcaff Cuppa
SDS – AGS Doubletree Absolute True-Blue (1x GCH)
SDDD – AGS Gay-Mor's LY Peppermint Patty
SDDS – AGS Doubletree Sky-Blue Skylar
SDSD – AGS Doubletree Blue-Martini
SDSS – AGS MCH Pocket Sized MN Vice VG
SS – CH Helderberg KM Fire Storm Brut EEV 90.
SSD – CH Helderberg FB Peach Champagne, (3x GCH, 2x RGCH, 1x BOB)
SSS – CH Helderberg TB King Midas, (1x BIS)
SSDD – CH Chenango-Hills Seraphina
SSDS – AGS Doe-Sy-Doe FS Fire Blaze *S
SSSD – SGCH Doe-Sy-Doe Thumbelina 8*D EEEV-90 (5x GCH, 2x RGCH, 2x BOB, 1x BUIS)
SSSS – GCH Rosaharn BB Ton Bombadil ++*B (1x BIS)
The Ladies behind Remi
Boys behind Remi