Hilltown Meadows Duke of Lennox *B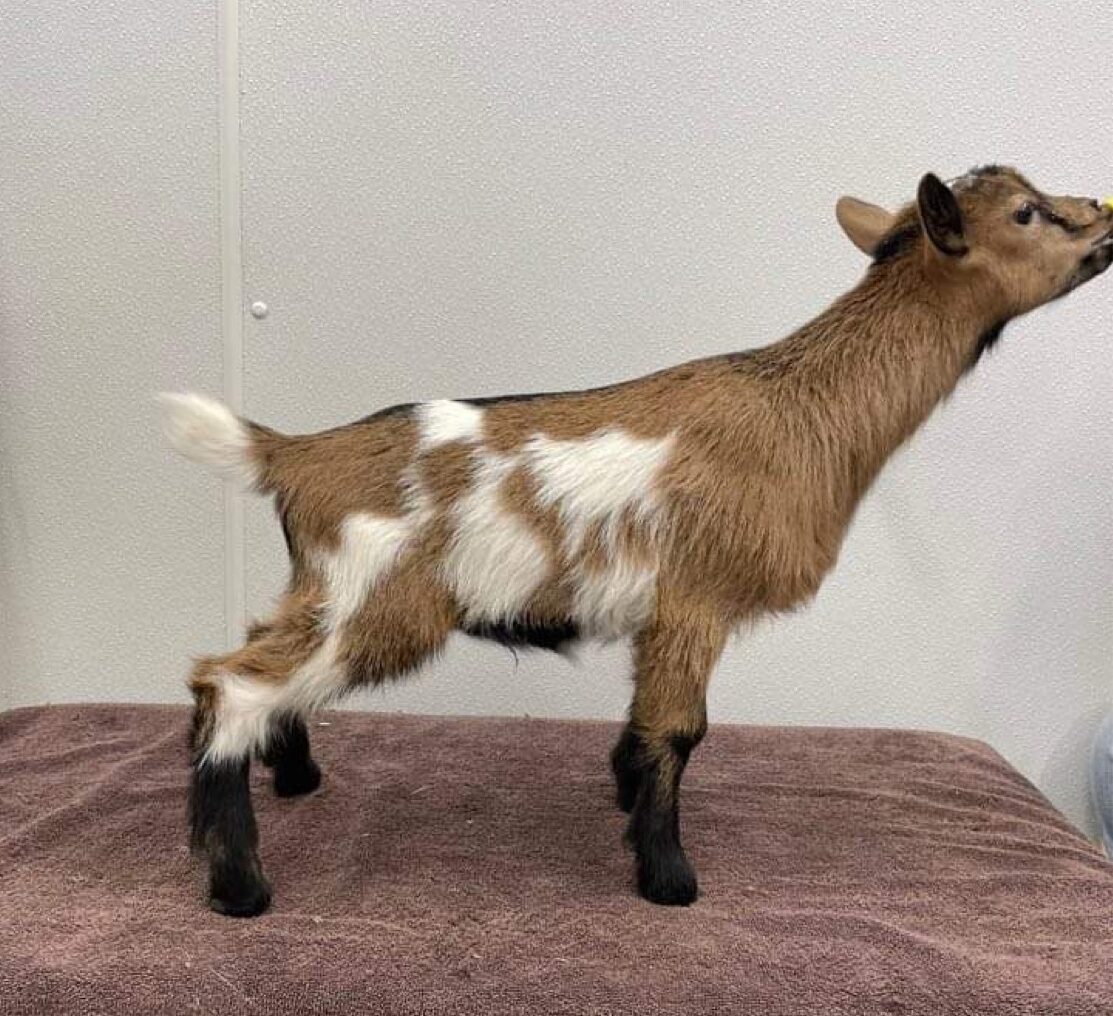 (Barn name – Lenny)
Color: Chamoise with white/ one moonspot
DOB: 1/31/2021
ADGA ID# PD2158420
Lenny is a new addition to the farm this year (2021) and we are beyond excited to see the improvements he brings to our herd! Lenny is still young, but he is already super long, deep bodied, very level top line, has a lovely head, stands on very correct feet, and overall is a very very nice looking kid. We cannot wait for kids out of him next year!
Lenny's dam, Arabella, milked 1085lbs in 290 days last year, and his sires dam (Wood Bridge Farm Sundance 2*M) milked 1260lb in 282 days! Sundance was also #10 at the Nationals in Columbus, Ohio as a Junior Yearling. Both of these does have beautiful capacious, socked on udders, with great sized teats. This buckling comes from some crazy heavy milking lines AND many show winners and consistently high LA appraisals as well. Truly the best of both worlds.
We are so excited and so honored that we have been trusted to bring this little guy home.
He comes from an outstanding herd with incredible lines behind him. His pedigree speaks for itself! We have big plans for this little guy.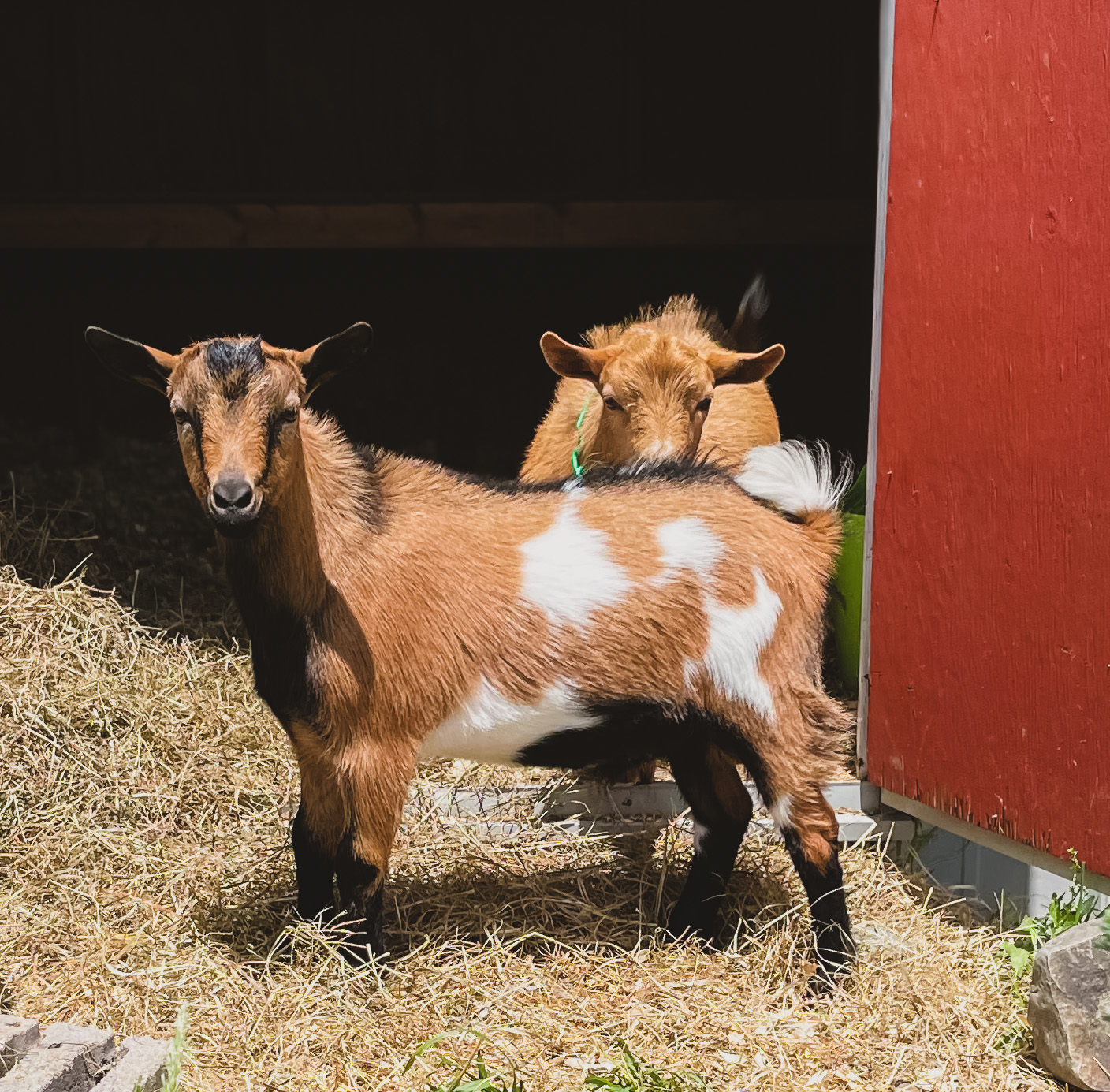 DAM – Wood Bridge Farm Arabella 1*M – VVEE88 (FF score!) – With "E" in Feet and Back  – Show wins – 1x ADGA Reserve Grand Champion 2018
DS – GCH Pheonix Farm Icebird Legacy +*B
DSS – Castle Rock Iceberg ++*B
DSD  – SGCH Pheonix Farm Summer Bird 4*M EEEE – 91
DSSS – CRF Castle Rock Harvest Moon ++*B
DSSD – GCH CRF Castle Rock Black Ice 2*M EEEE – 92
DSDS – GCH AGS TX Twincreeks Fax Summerknight ++*B VEE – 90
DSDD – SGCH NC Promisedland RD Bonnie 3*M VEEE – 91
DD – Wood Bridge Farm Undermine
DDS – GCH Wood Bridge Farm Understated ++*B VEE – 89
DDD – CH Attwood Acres Dott
DDSD – GCH Wood Bridge Farm Belladonna 1*M (ADGA National Show Grand Champion 2014, 2016)
DDSS – GCH Wood Bridge Farm Apache Wind ++*B EVE – 90
DDDS – Atwood Acres FT Fidget A
DDDD – Atwood Acres GR Winnie VVV+ 84
SIRE – Hilltown Meadows SR Buckingham *B
SS – Wood Bridge Farm Sir Bravo *B VEE – 87
SSS – CH Wood Bridge Farm Undeniable
SSD – CH Wood Bridge Farm CountnBlessns
SSSS – CH Wood Bridge Farm Understated
SSSD – CH Atwood Acres Dott
SSDS – Old Mountain Farm NightShade 
SSDD – CH Wood Bridge Farm Xoleeta
SD – Wood Bridge Farm Sundance 2*M VEVE – 88 (FF Score!) – with "E" in rump – Show wins – 1x ADGA Grand Champion, 2017 ,2 x ADGA Reserve Champion
ADGA 2018 National Show, #10 in class 110 Nigerian Dwarf Junior Yearling

SDS – GCH Wood Bridge Farm Understated ++*B , VEE 89
SDD – Wood Bridge Farm Serendipity 1*M
SDSS – GCH Wood Bridge Farm Apache Wind ++*B , EVE 90
SDSD – GCH Wood Bridge Farm Belladonna 1*M  (ADGA National Show Grand Champion 2014, 2016)
SDDS – CH Wood Bridge Farm China Dynasty
SDDD – Atwood Acres Tip Toe