Casa Ram SK Sir Lucan
COMING SOON TO THE FARM!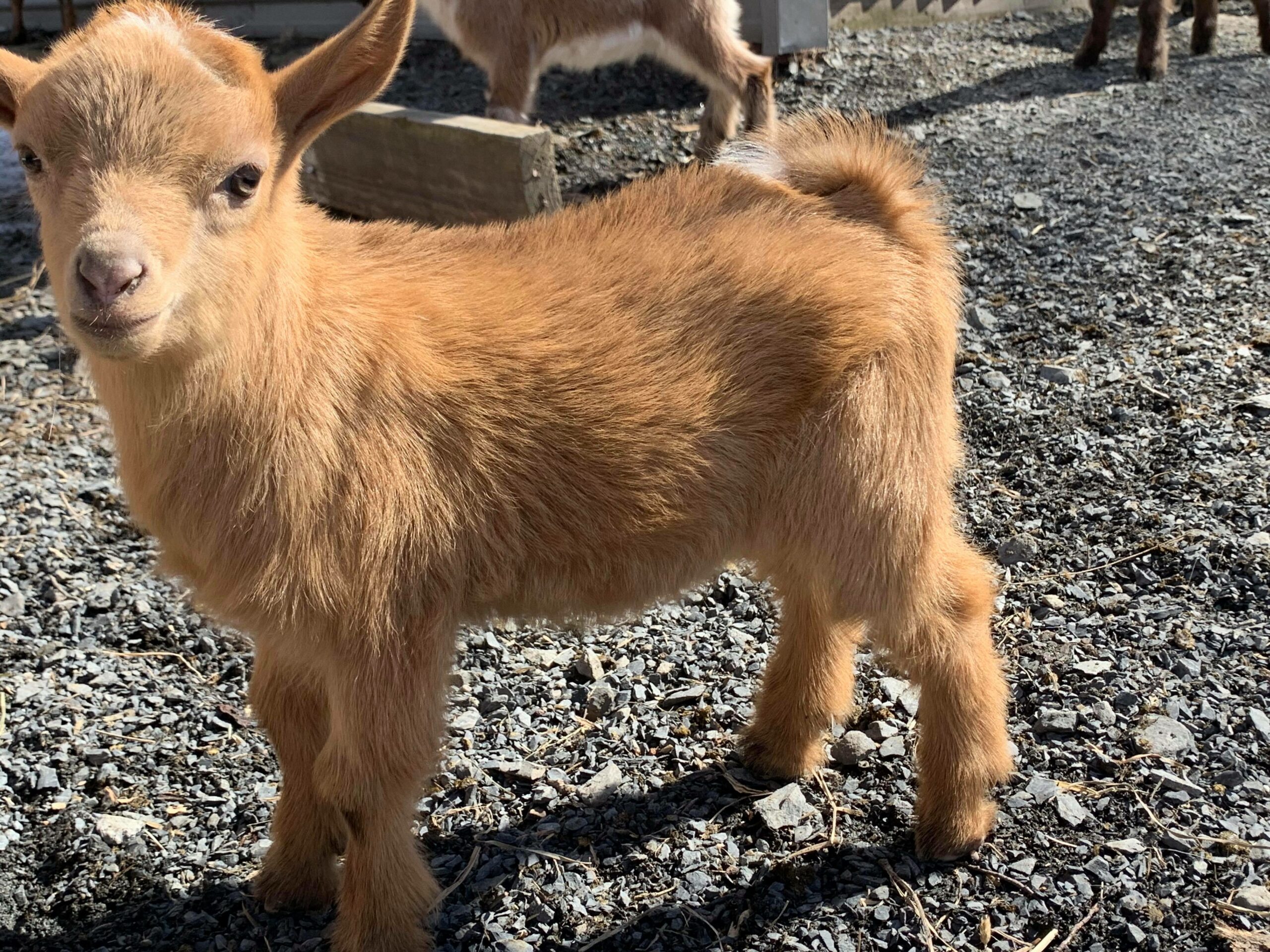 Pedigree –
(Barn name – Lucan)
Color: Gold/white poll
DOB: 2/15/2021
ADGA ID# Not yet available
Click HERE to see Lucan's Page and learn more about him!
Sir Lucan is another new addition in 2021! I have been wanting a son out of his Sire ever since I started breeding Nigerians, so we are ecstatic that he will be joining our farm here very soon! Lucan's sire is a 1xRGCH winner and his dam has a gorgeous capacious udder that I am hoping he passes on to his kids here.
DAM – Casa Ram Cocoa Pebbles 
DD – Danlee Henna
DS – AGS Doubletree Kenny Chesney
DD – AGS Doubletree Somethin about Mary
DS – 3MBJ Goats Roc Courage
DSS – Wood Bridge Farm Rocky Road
DSD – Wood Bridge Farm Grace
DSSS – Cuatlilredbarn Count Chocula
DSSD – CH Wood Bridge Farm China
DSDS – GCH Wood Bridge Farm Apache Wind ++B – EVE – 90
DSDD – Wood Bridge Farm Edge of Glory
DSDSS – GCH AGS Rosaharn UMT Pippin ++B – VVE – 86
DSDSD – GCH AGS Bombahook Acres HSRD Demi Plie *M – VEEE – 91
DSSSD – GCH Jasper's Harem JB Coco Puff 2*M VVEE – 90
DSDDS – SGCH Buttin' Heads Palimony ++B – EEE – 90
DSDDD – GCH AGS Bombahook Acres HSRD Demi Plie *M – VEEE – 91
SIRE – Helderberg BH Sir Kay – Show wins – (1x RGCH)
SS – Rosaharn TL Bully Hill+*B – VVV – 88
SSD – ARMCH Rosasharn SW Sake 4*M
SSS – ARMCH Rosasharn's Tiger L ++*B
SSSD – AGS Goodwood Water Lilly *M
SSDD – AGS Rosaharn's Unagi 3*M
SD – Helderberg TB Wild Willow – Show wins – (2x JR GCH)
SDD – CH Chenango-Hills Seraphina – VVE+ – 85
SDS – GCH Rosasharn BB Tom Bombadil ++*B – (Best in show winner)
SDDS – Chenango-Hills Bilbao Baggins *B
SDDD – Chenango-Hills Unique 5*M/4*D – VVEV – 87 (Top ten DHI)
SDSS – Rosaharn WT B-BO ++B – VEE – 89
SDSD – SG ARMCH Rosasharn P Haiku 5*D/4*M, VEEE 91 – (Top Ten DHI, 2010 ADGA National GCH and Best Udder)
Ladies Behind Sir Lucan!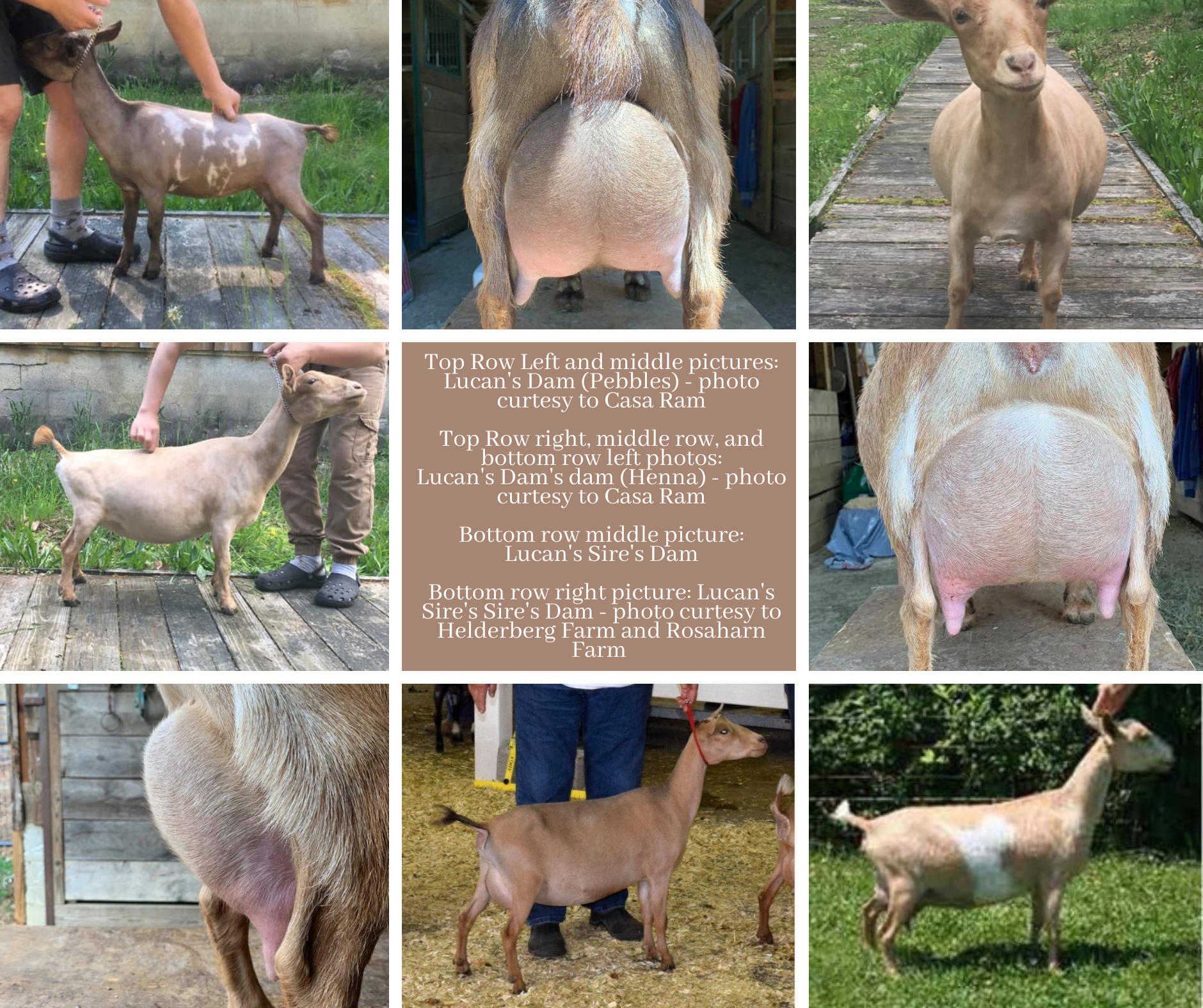 Guys behind Sir Lucan!